Dental Checkups & Teeth Cleanings – Rowley, MA
Keeping Your Smile Fresh and Healthy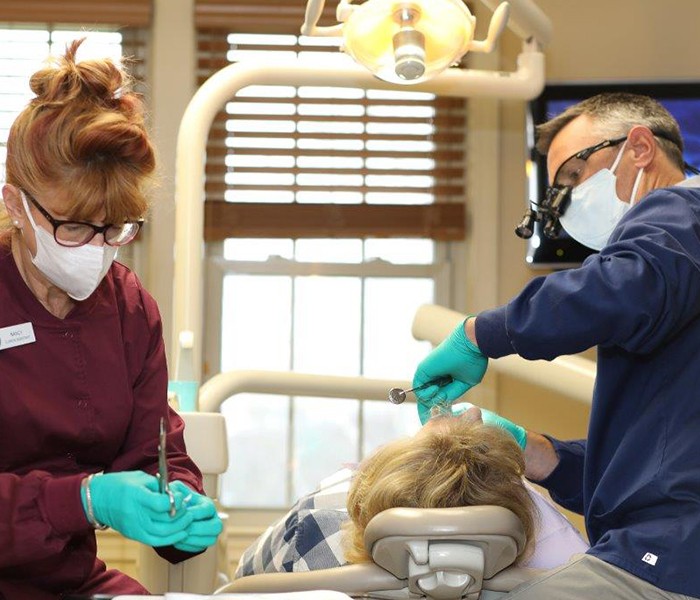 A comprehensive dental exam will be performed by Dr. St. Clair at your initial dental visit. Regular dental checkups and teeth cleanings with our Rowley, MA dentist, Dr. St. Clair and your hygienist, will include the following:
Examination of diagnostic x-rays (radiographs): Essential for detection of decay, tumors, cysts, and bone loss. X-rays also help determine tooth and root positions.
Oral cancer screening: Check the face, neck, lips, tongue, throat, tissues, and gums for any signs of oral cancer.
Gum disease evaluation: Check the gums and bone around the teeth for any signs of periodontal disease.
Examination of tooth decay: All tooth surfaces will be checked for decay with special dental instruments.
Examination of existing restorations: Check current fillings, crowns, etc.
Why Choose J. Peter St. Clair, DMD for Dental Checkups & Teeth Cleanings?
Authentic Down-to-Earth Dentistry
Sedation Offered to Anxious Patients
Advanced Tools for Accurate Diagnoses
Dental Cleanings in Rowley
Dr. St. Clair and his team offer a variety of services to meet their patient's needs and desires. They include a complete hygiene department with exemplary hygienists all trained in comprehensive periodontal maintenance and hygiene management. All of Dr. St. Clair's hygiene team members pursue advanced continuing education, updated training, and are current on all the latest periodontal improvements, treatments, and options for their patient base.
Periodontal disease, or as it used to be termed, "pyorrhea," is a disease of the gums and bone surrounding the teeth. It is the number one condition facing most adults, both young and more mature. Our dental hygienists screen for periodontal disease and intercept it as early as possible. This is an attempt to prevent bone loss and tooth extractions, and new studies indicate the negative effects of this disease on patients with a weakened heart or immune system. In those rare instances where our level of expertise is exceeded, we have the services of Dr. Larry Miller (Danvers) to take care of all your periodontal needs.