Sleep Apnea Treatment – Rowley, MA
Get Ready for a Better Night's Sleep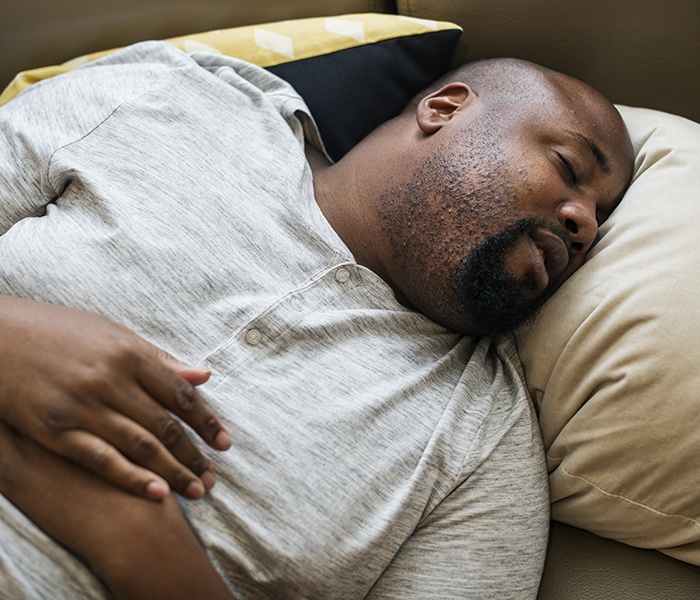 Dr. St. Clair is a member of and working on his Diplomate status with The American Academy of Dental Sleep Medicine. He has been treating sleep apnea patients in Rowley since 2012. His first patient was himself.
Dr. St. Clair works directly with board-certified sleep physicians to provide sleep apnea treatment in Rowley, MA with oral appliances for patients who Can Not or Will Not use CPAP therapy. Dr. St. Clair treats patients of other general dentists who do not provide this service. If you have a general dentist, your dentist will receive all correspondence of your sleep apnea treatment.
Why Choose J. Peter St. Clair, DMD for Sleep Apnea Treatment?
Member of American Academy of Dental Sleep Medicine
All Treatment Plans Creatively Personalized
We Provide the Care We'd Want to Receive
Sleep Apnea: An Overview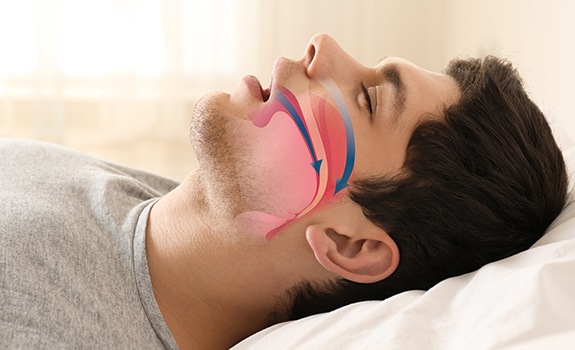 The most common form of sleep apnea is obstructive sleep apnea (OSA). It occurs when the lower jaw collapses during sleep, partially or completely blocking the proper flow of air through the throat.
Sleep apnea sufferers have their sleep interrupted hundreds of times in a single night -- racking up a severe oxygen deficit for the brain and other vital organs. Over time, the condition puts a serious strain on the heart, especially. High blood pressure, stroke, and heart attack are all linked to sleep apnea.
The condition is most common in patients who are overweight or obese, and slightly more prevalent in men than in women. Risk increases over the age of 55.
With increasing prevalence of childhood obesity, the frequency of OSA is rising in younger patients, too. Overweight children who are frequently irritable, have issues concentrating in school, or who report trouble sleeping should be evaluated for OSA.
Is It Really Sleep Apnea?
Obstructive sleep apnea is almost always accompanied by loud, chronic snoring. But not all cases of persistent snoring are caused by OSA -- if you are concerned about your risk for this sleep condition, schedule an appointment with your general doctor for a diagnosis. He or she may refer you to a sleep clinic for a sleep test.
In addition to snoring, patients who are suffering from OSA will usually exhibit the following symptoms.
Frequent waking throughout the night, usually with a gasp or choking sound.
Dry mouth or sore throat upon waking.
Fatigue, exhaustion, irritability.
Difficulty completing daytime tasks.
Depression and other symptoms related to poor sleep.
The sleep apnea sufferer may not remember a night of fitful sleep or snoring upon waking. Often, it is a partner who identifies an issue needing treatment.
Oral Appliance Therapy for Sleep Apnea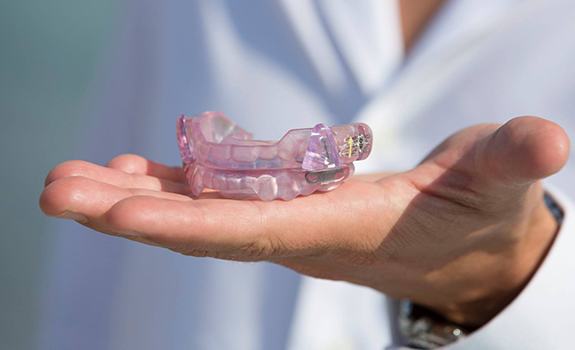 Traditionally, sleep apnea treatment involves a CPAP (continuous positive airway pressure) machine. This device attaches to the face, forcing air into the lungs to keep the airway clear throughout the night. CPAP therapy is usually effective, but many patients abandon use when they find the device to be more disruptive than their original symptoms.
With oral appliance therapy, patients can enjoy a simpler, more comfortable solution. These small devices slightly reposition the jaw and/or tongue, minimizing the effects of sleep apnea and keeping patients breathing easily as they dream the night away.