J. Peter St. Clair, DMD Blog
September 17, 2018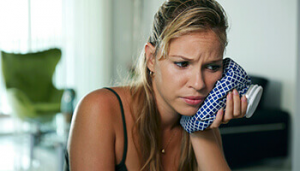 There are many reasons people get headaches, and many medications and suggestions on how to prevent them. You may have heard that reducing stress in your life can help reduce headaches. Although methods of relaxation are important to get through the stresses of life, it may not be enough to prevent headaches, especially in the subconscious (i.e. sleeping).
Studies have shown a link between tooth grinding, clenching and headaches. For people who grind or clench, the muscles that open and close the jaw can become painful from overuse, causing a range of symptoms from tension to migraine headaches to jaw joint (TMJ) problems to tooth pain.
Bruxing (grinding) and clenching teeth is defined as abnormal tooth contact (parafunction). Ordinarily, teeth are in contact while eating and swallowing, only about 10 to 15 minutes on a daily basis. People who grind or clench their teeth during the day, or while sleeping, can have their teeth in contact for as much as six hours a day or more. Researchers say that one night of grinding is equivalent to 80 days of normal wear.
Clenching can be just as bad, and in some cases worse than grinding. The average person puts about 200 lbs. of force on back molars during function but a person who clenches can put up to 1000 lbs. on the molars. This is a lot of force for the teeth to withstand. Fractured teeth are seen on a regular basis in dental offices due to clenching.
The American Dental Association estimates that 95 % of the American population suffers from a grinding or clenching problem at some point in their lives. Some people do so much damage over time that to restore their teeth back to normal function takes a significant amount of dentistry. The key is early diagnosis and treatment.
Many patients do not realize or refuse to accept the fact that there is a problem. The reason for this is because many, if not most, do not have symptoms. The masticatory system is a very adaptive and forgiving system. This does not automatically mean, however, that there are no signs of problems. With intervention, help can prevent problems in the future.
Therefore, successful therapy starts with acceptance of the pathology present. In addition to behavior modification, nighttime bite splints can be very effective. They should be worn every night, not just when it "seems" like you have been grinding or clenching. There are many types of nightguards for different problems. Over-the-counter appliances are not recommended and can be dangerous to use. Some types of nighttime appliances can be extremely effective in treating people who suffer from headaches due to clenching.
Headaches are only one of the symptoms associated with clenching. Everything from sore muscles, sensitive teeth, worn teeth, broken teeth, and sore joints can be caused by clenching. Ask your dentist whether you have any of the signs associated with grinding or clenching. Treatment can be easy, relatively inexpensive, and save you from potential future problems.
Dr. St. Clair maintains a private dental practice in Rowley and Newburyport dedicated to health-centered family dentistry. If there are certain topics you would like to see written about or questions you have please email them to him at jpstclair@stclairdmd.com. You can view all previously written columns at www.jpeterstclairdentistry.com/blog.
Comments Off

on DO YOU CLENCH?
Older Posts »