J. Peter St. Clair, DMD Blog
November 30, 2020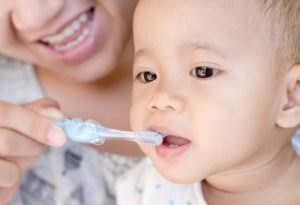 Research shows that babies are born without any harmful bacteria in their mouths. However, once bacteria colonize in the mouth, children are more prone to cavities in their baby teeth and permanent teeth. How do they get the bacteria? Caregivers.
Most parents don't know that they can pass harmful bacteria from their mouth to their baby's mouth. The most critical time is during the child's first 2 ½ years of life. Most children are born without a single tooth. Can bacteria passed to children without teeth affect their decay potential for their whole life? According to research the answer is yes.
Here's a shocker…..If you have a history of poor oral health, including many fillings in your mouth, you are much more likely to transfer these harmful bacteria to children. How? Typically, this takes place through common parental or caregiver behaviors such as sharing utensils or cleaning a baby's pacifier with your own saliva.
Prevention starts as early as 6 months into a pregnancy. Research shows that expectant mothers who chewed gum containing the sweetener xylitol are much less likely to have decay-causing bacteria in their saliva. So, take-home point number one, it is essential for expectant parents and caregivers to keep their own mouths healthy. If you reduce the bacterial levels in your own mouth, you are not only benefiting yourself but also that of your unborn child. Visiting a dentist regularly, even more often when you are pregnant, improving your homecare, and using products that specifically reduce bacteria are all essential.
Your baby is born; now what? First, eliminate potential ways of transferring saliva to your baby. Do not share utensils or let grandma or grandpa lick a cloth to clean around a baby's mouth. Wiping your baby's gums with a clean cloth after meals is also good practice to help reduce bacterial levels.
Once a child starts getting teeth, diet plays a significantly greater role. Minimizing snacks and drinks with fermentable sugars is key. This starts with the bottle. Bottle syndrome, also known as baby bottle tooth decay, occurs when teeth become exposed, at length and frequently, to liquids containing a form of sugar. All liquids that contain sugar can cause bottle syndrome, including breast and cow's milk (which contain the sugar lactose), formula, fruit juice (which contains the sugar fructose), soda and other sweetened drinks. It is caused by the constant presence of milk, formula, or fruit juice in a child's mouth during the night, during breastfeeding, during naps, or for extended periods during the day. The liquid pools around the teeth and gums, providing food for the bacteria in plaque. The bacteria produce acid as a byproduct when they consume the sugar. This acid attacks your child's teeth and causes decay.
When your child feels comfortable with a toothbrush, brush their teeth and gums twice a day with an extra-soft toothbrush. Use a pea-sized amount of toothpaste without fluoride until your child is old enough to spit.  If your child doesn't like toothpaste, it's fine to brush without it.
Prevention starts before babies are born. It starts with taking care of your own mouth.
Next week, in the second part of this 3-part series, we will explore some important issues to consider during the next phase of life.
Dr. St. Clair maintains a private dental practice in Rowley and Newburyport dedicated to health-centered family dentistry. If there are certain topics you would like to see written about or questions you have please email them to him at jpstclair@stclairdmd.com. You can view all previously written columns at www.jpeterstclairdentistry.com/blog.
Comments Off

on STARTING AT BIRTH – STEP 1
Older Posts »