Dental Implants — Rowley, MA
The Modern Way to Replace Teeth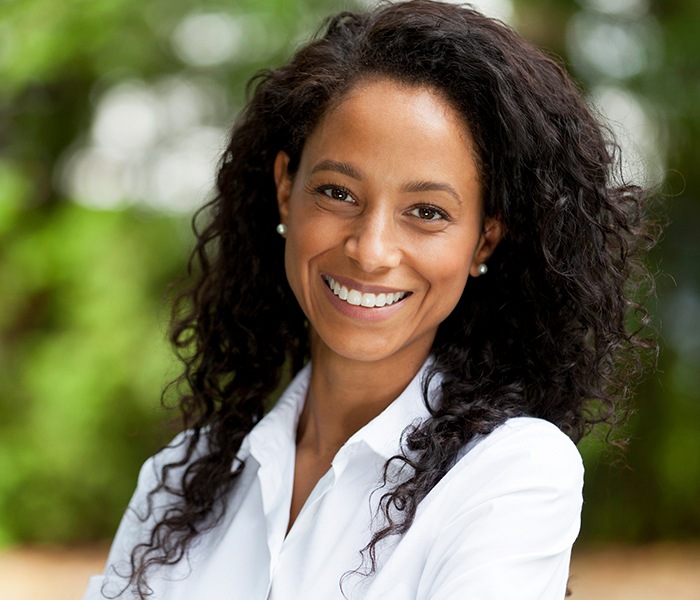 Tooth loss can be a devastating experience, but patients don't have to struggle with it forever. Dr. J. Peter St. Clair and his accomplished staff are proud to offer dental implants in our Rowley, MA dental office as a reconstructive solution that rises above and beyond the rest restoring health, rebuilding structure, and giving patients back an aesthetically pleasing, lifelike look. Contact our Rowley dental office today to schedule a consultation and learn more about the modern way to replace teeth.
Why Choose J. Peter St. Clair, DMD For Dental Implants?
Advanced Dental Technology for Precise Treatment
Partnered with the Best Local Specialists
Replace Any Number of Teeth for Life
What Are Dental Implants?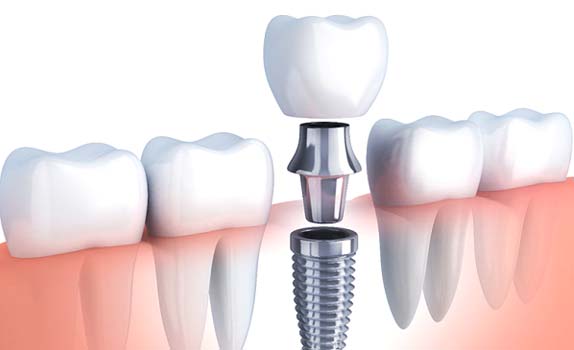 Dental implants are quickly becoming the most popular way to replace missing teeth, and they are widely regarded as the gold standard. The success of implants is built on the fact that they replicate the entire structure of the tooth, not just the white crown you can see. While dentures and dental bridges only replace the crowns of missing teeth, a dental implant is a small titanium post that is inserted into the jawbone. Your new "tooth roots" work just like the old ones did – they stimulate the jawbone and keep it full and healthy over the years, preventing the facial deterioration that can occur with more traditional tooth replacement options. One or more dental implants can be used to support dental crowns, a bridge, or denture to replace any number of missing teeth. Once the custom-made porcelain restoration is anchored in place, the results will look, feel, and function just like natural.
The 4 Step Dental Implant Process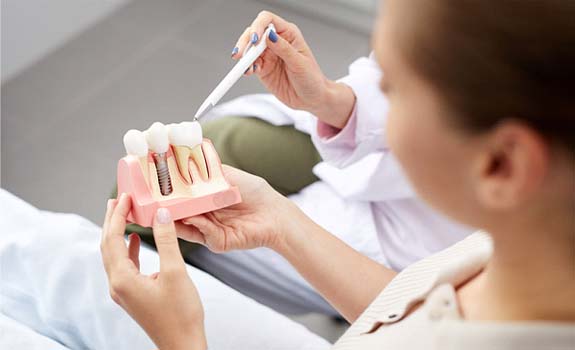 First, we'll need to see you for a consultation to see if dental implants are a good choice for you, or if you'll need to complete preliminary procedures like a bone graft beforehand. After our team has determined that you're a good candidate for dental implants, the next step of the process is to place them into the patient's jawbone. We'll refer you to a trusted local specialist to ensure that this part of your dental implant treatment goes as smoothly as possible.
Once your new implants are placed, patients will need to undergo a healing process. During this time, your natural bone and tissue are able to form a bond with the implant, creating a strong foundation that will support new replacement teeth. This is called osseointegration, and it often takes several months. In many cases, patients attend a follow-up procedure, during which abutments will be added. These will actually attach the restoration to the implants themselves. Then, when you return to our office for your final appointment, we'll secure your new teeth into place!
Who Dental Implants Can Help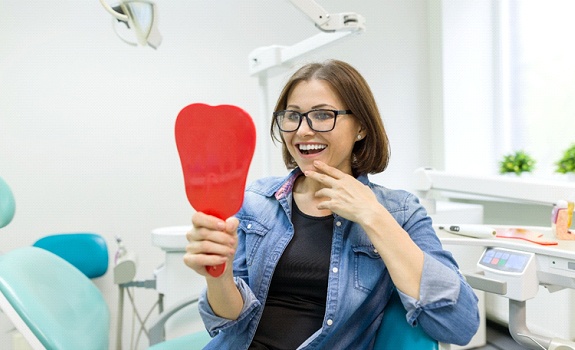 Our dental implant dentist in Rowley is here to help all patients suffering from tooth loss achieve the smile of their dreams. While traditional prosthetics may be options for tooth replacement, they're not the only solutions available. It is true that dental implants are possible for any adult with one or more missing teeth, and our team will go to great lengths to ensure your oral anatomy is strong and capable of receiving these titanium prosthetics when it comes time for placement.
Who is a Good Candidate for Dental Implants?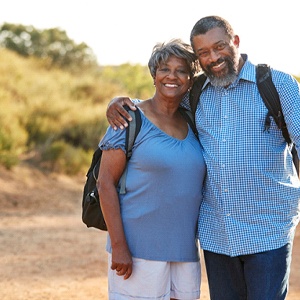 The only way to know if you are a good candidate for dental implants is to undergo a thorough consultation with Dr. St. Clair. This visit will entail many different parts, each critically important to the overall process.
We must evaluate your smile to determine:
Your oral health – Are you exhibiting symptoms associated with decay or damaged teeth (i.e., cavities, gum disease)? If so, you'll need periodontal therapy or tooth extraction if severe enough.
Your overall health – Are you healthy enough to undergo minor oral surgery, which is required for dental implant placement?
Your jawbone – Do you have enough jawbone density to adequately support your new teeth? If not, you will likely need a bone graft.
Missing One Tooth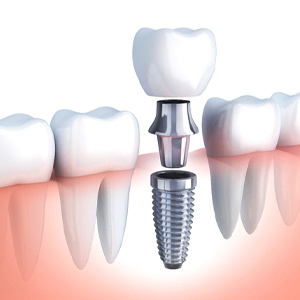 One of the greatest aspects of dental implant placement is that it's extremely versatile. When only one tooth is missing, there's no need to consider a bridge. Instead, you can remove yourself from the millions of people living without one natural tooth and embrace the ability to eat, speak, and smile with greater ease. Using a titanium post, we can fill in the socket and allow it to fuse with the bone tissues before securing a dental implant crown.
Missing Multiple Teeth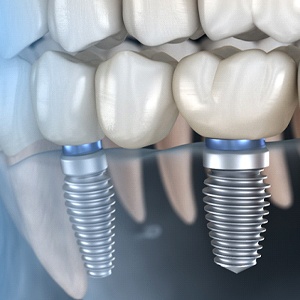 If two or more teeth are missing along the upper or lower arch, we can place two dental implants on the outer parts of the gap before allowing the remainder of the prosthetic to rest on top of the gums. Not only does this complete your smile, but it also allows you to keep more of your natural tooth structure as opposed to a traditional dental bridge.
Missing All Teeth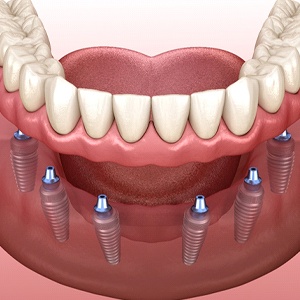 Missing an entire arch of teeth can be devastating. However, with the help of implant dentures, which is no longer the case. We can position and place between four and six dental implants so that your new denture will rest on top, creating a stable and fully functional smile. Unlike traditional dentures that require denture adhesives, implant dentures are secured to the top of your implants to maximize durability.
Benefits of Dental Implants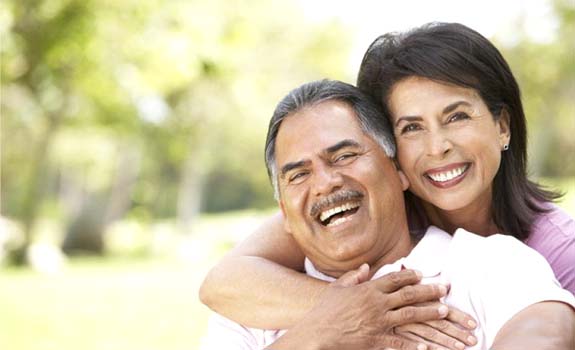 Implants can be treated just like natural teeth, with no changes to your diet or oral hygiene routine required.
Dental implants allow patients to eliminate the struggles they've endured with dentures – no more slippage, no more messy adhesives, no more painful metal clasps, and no need to ever take the appliance out.
Implants are flexible, allowing our team to replace one tooth, several teeth, or even an entire arch in an effective and revitalizing fashion.
With a great oral hygiene routine at home and regular checkups, patients expect to enjoy their implants for 20 more years, 30 more years, or even for the rest of their life.
Maintaining & Caring for Your Dental Implants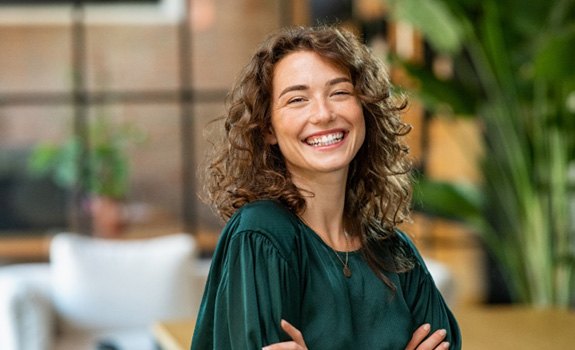 The success rate of dental implants is around 95%, but you still need to take proper care of them if you want to keep them in your mouth for the rest of your life. Just like with your natural teeth, it's best to take a proactive approach with dental implants; the better care you give them, the less likely you are to experience problems down the road. Below are some of the most important steps you can take to protect your new smile.
Make Oral Hygiene a Priority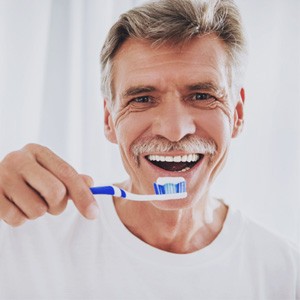 Dental implants can't get cavities, but they do require healthy tissues to hold them in place. If you develop gum disease, it could compromise your mouth's ability to support the implant posts, causing them to fail. As such, you should give your dental implants the same kind of attention as the rest of your smile when brushing and flossing. Make sure the area around your new teeth stays clean and free of bacteria.
Eat a Healthy Diet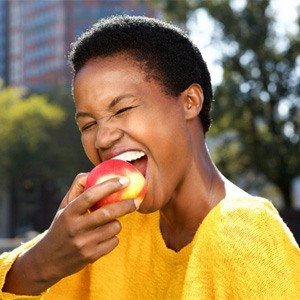 Eating a piece of cake or another sweet treat every so often won't cause you to lose your dental implants. However, too many sugary snacks can increase your risk for gum disease and other oral health issues that can put your replacement teeth at risk. Cut down on sweets and start eating more foods that can help keep your mouth healthy, such as fruits, vegetables, leafy greens, and dairy products. You should especially focus on foods that are rich in Vitamin C and calcium.
Break Bad Habits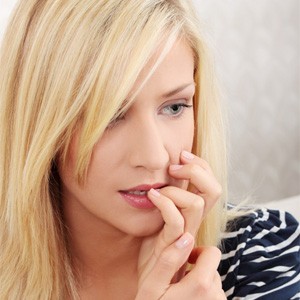 There are several habits that can damage your dental implants as well as your natural teeth. Such behaviors include:
Crunching ice, peppermints, and other hard foods.
Chewing on your fingernails or the end of your pen.
Opening packages with your mouth.
It's best to break these habits as soon as possible before they damage your implants. You can try substituting bad habits for healthier ones. For example, if you often have the urge to chew on something, you can carry sugar-free gum with you.
Protect Your Dental Implants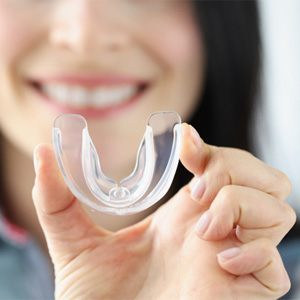 It's a well-known fact that many kinds of sports often lead to damaged or knocked-out teeth. The same activities can put your dental implants at risk, so it's important to make sure that you have the proper safety gear. Wearing a custom-made mouthguard can help you avoid the worst-case scenario if you ever suffer a blow to the mouth while on the court or field.
Another common threat to dental implants is bruxism, which is when you unconsciously grind your teeth, often while you're asleep. Frequent grinding can expose your dental implants to unnecessary wear and tear, but you can keep your new smile safe by wearing a nightguard.
Schedule Regular Dental Checkups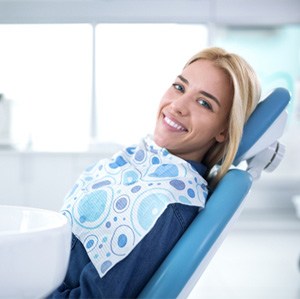 During your biannual dental checkups, we can examine your dental implants to make sure that there aren't any problems developing. Our goal is to catch potential issues early on before they become harder to deal with.
Dental Implant FAQs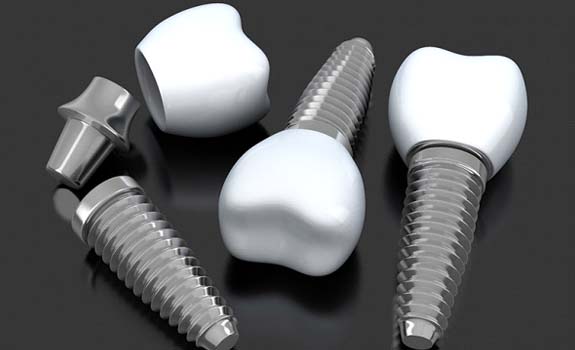 Are you looking to restore your smile with dental implants? It is important to be well-informed before making decisions about the future of your smile. Here are some of the most common questions we are asked about dental implants in Rowley. If you don't see the information that you're looking for below, don't worry! Just give us a call , and we'd be more than happy to answer any questions you have and get you started by scheduling your initial consultation.
How Long Do Dental Implants Last?
The lifespan of dental implants depends on the health and lifestyle choices of the patient. To ensure that dental implants last, it is important to brush, floss, and rinse with mouthwash daily. Attend your regular cleanings and checkups, and avoid chewing on anything that is particularly hard or sticky. With proper maintenance, dental implants can last upwards of 30 years! This is several times longer than the average bridge or dentures.
Does Dental Implant Surgery Hurt?
Your mouth will be numbed with a local anesthetic before your procedure begins, and you will most likely be sedated. This will lower your body's ability to register pain. Ultimately, you shouldn't feel any pain during the placement process. However, you may feel some soreness for a few days after your surgery. This can be managed by taking your over-the-counter and prescribed pain relievers as directed. Cold compresses can also be helpful. If your discomfort worsens instead of improving after two to three days after your procedure, give us a call.
Am I Too Young to Get Dental Implants?
If dental implants are placed before the jaw is finished growing, it can interfere with further bone development and potentially result in complications. Since most people's jaws aren't fully developed until young adulthood, the majority of dental professionals will not place implants in patients who are younger than 18. Some people's jaws aren't finished developing until their mid-20s, but this varies from person to person. If your jaw isn't done growing yet, it is best to wait before opting for dental implants.
How Long Does It Take to Recover from Dental Implant Surgery?
You should be able to resume your normal activities the day after your surgery, but you should avoid strenuous exercise for the first week or so, as this can delay the healing process. Bleeding should stop after the first couple of days, and swelling should discontinue after three to four days. It may take up to six months before your implants are completely fused with your jawbone.