Dental Crowns – Rowley, MA
For Teeth in Need of Repair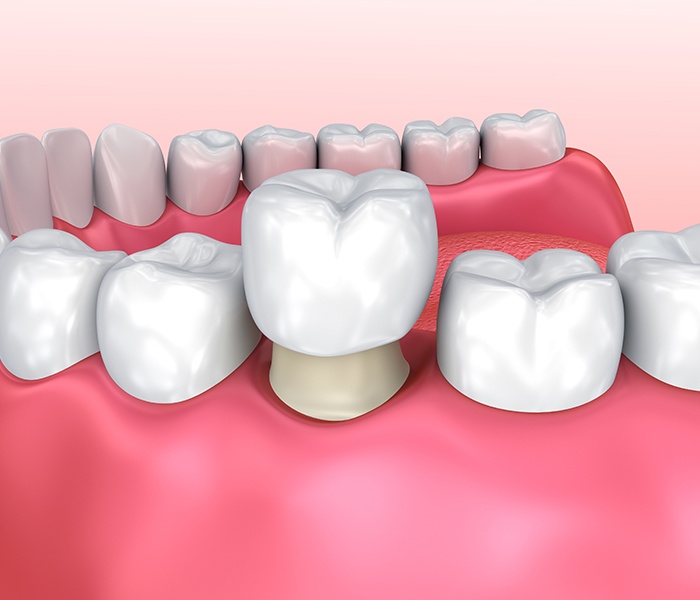 As long as enough of your tooth's structure is intact above the gum line, it can be fixed with a cap called a dental crown. About 2.3 million crowns are placed every year for a variety of reasons, from protecting already weakened enamel to holding a cracked tooth together. You may even receive a crown to hold a dental bridge in place in order to replace a missing tooth. Get in touch with us today to learn about the different kinds of dental crowns that our Rowley, MA dentist, Dr. St. Clair, can place.
Why Choose J. Peter St. Clair, DMD for Dental Crowns?
Long-Lasting Materials
Philosophy of Treating Patients with Dignity and Respect
Same-Day Crowns Available
Restorative Options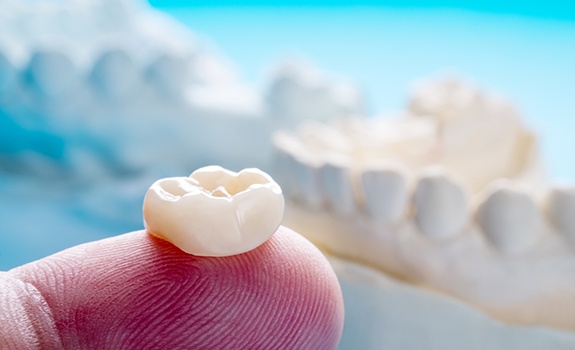 Cast Gold: strongest, most long-lasting material available. Life span is the longest of any dental material available today (15-20+ years). It is what Dr. St. Clair has in his own mouth.
Porcelain/Gold: Used where strength and appearance are equally important. These restorations are limited to full crowns "caps" and have a life span of approximately 10-20 years.
Bonded Porcelain: Used for veneer and crowns in the front of the mouth and for inlays and onlays in the back of the mouth when the utmost in cosmetic appearance is a requirement. Due to the brittleness and wear characteristics of this material, care must be used in the selection of this mode of treatment. Life span for these materials have a wide range depending on where they are used in the mouth. (8-10+ years).
* The life-span averages above are based on scientific data and the history of the dental material. There are many factors that influence the life-span of a restoration.
Our treatment recommendations are occlusal based. This means that every patient is evaluated to make sure the joints, muscles, and teeth are working together to ensure the longest lasting dentistry.
Our "remake" policy on laboratory processed restorations is based on the fact that dental insurance companies consider these restorations full-term at five years. Therefore, each year is worth 20 percent. In the unlikely event that a laboratory fabricated restoration needs replacement within the first five years from placement, the patient's financial responsibility will be pro-rated from the time it was done. For example, if a crown was done 3 years ago and needs to be replaced because of recurrent decay, the patient would be responsible for 60% of the current fee for the crown to be re-done. From 1996-2009, less than 2% of the lab-processed restorations done in our dental office have needed replacement. Again, there are many factors that determine how long a restoration will last.