Oral Appliance Therapy – Rowley, MA
CPAP-Free Sleep Apnea Treatment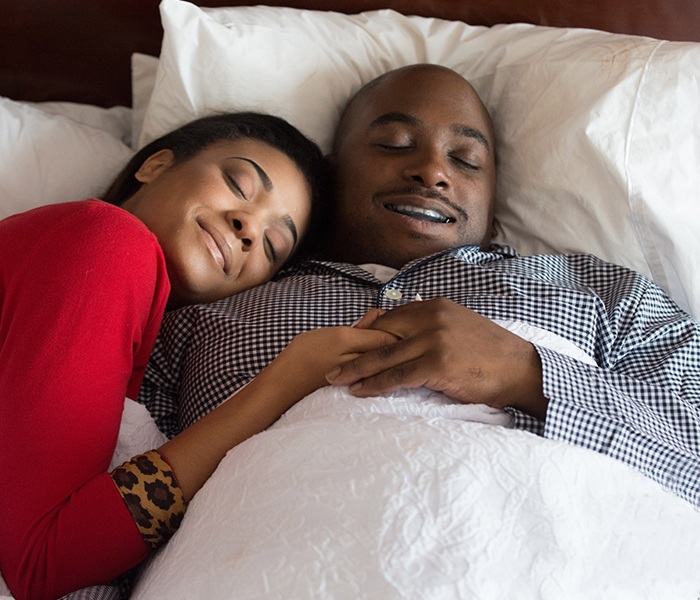 When a patient has needed sleep apnea treatment in Rowley, they have traditionally received a CPAP machine, which is a special device that will continuously deliver oxygen into the airway so that it stays unblocked as you sleep. Many patients have benefited from this treatment, but about half of them stop using the machine altogether for various reasons. The mask may be uncomfortable and even leads to feelings of claustrophobia for some people. Also, the noise made by the machine can keep you (and anyone sharing your room) up at night. Finally, the bulky device is very inconvenient to pack and transport, which is a problem if you need to travel often. The good news is, there are alternatives that Dr. St. Clair can offer so that you can get a good night's sleep without the disadvantages of the CPAP machine. Call us today to ask about oral appliance therapy in Rowley, MA.
Why Choose J. Peter St. Clair, DMD for Oral Appliance Therapy?
Individualized Treatment Plans with Uniquely Designed Appliances
Down-to-Earth Treatment Options
Empathetic Dentist and Team
Oral Appliance Therapy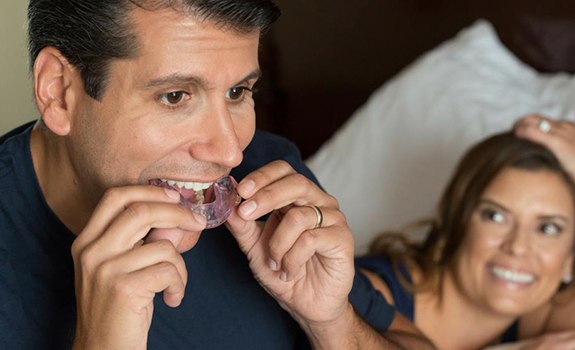 Oral appliance therapy simply involves wearing a small device over your teeth. It will be similar to a retainer or mouthguard, and it will be far smaller, more stable, quieter, and easier to use than a CPAP machine. You can get two major kinds of oral appliances: a mandibular repositioning device and a tongue retaining device. Here is what you need to know about the function of each:
Mandibular repositioning devices gently pull the lower jaw forward and down. This opens the airway while you're asleep. Most oral appliances that are prescribed for sleep apnea will be mandibular repositioning devices.
A tongue retaining device holds the tongue so that it doesn't fall back and block the throat during the night.
While these appliances are slightly different, they basically perform the same function: stopping soft tissue in your mouth and throat from blocking the airway. Over-the-counter appliances are available, but they're normally only available in one size, making them less comfortable and effective than the devices we provide.
Your appliance will be made from a flexible, durable material that will not damage your teeth or irritate the inside of your mouth. You can talk and drink normally with the device in your mouth, so there's no need to change your nighttime habits to a dramatic extent. As long as you comply with the treatment plan, your oral appliance will dramatically increase the quality of your sleep 95% of the time.
Sometimes the oral appliance can help treat other health issues as well. It can protect the teeth from grinding, stop your jaw pain, and in specific cases even stop the snoring that keeps your loved ones up at night.
How Can I Get an Oral Appliance?
If you are suffering from sleep apnea, want to get rid of your CPAP machine, or simply want to stop snoring, make an appointment today with Dr. St. Clair. That way, he can give you an examination and decide if oral appliance therapy is the best way to give you a restful night's sleep. You don't have to suffer with sleep apnea or deal with the inconvenience of a CPAP machine anymore. If you are ready to take back control of your sleep, give us a call today.