June 30, 2020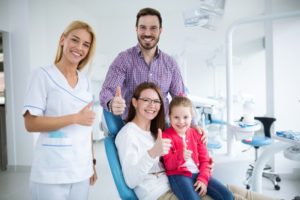 The sun is shining and the weather is warming up, which means summer vacation is finally here! Before you hit the road and set off on your adventures, make sure you take your loved ones to their dental checkups. The last thing you need is for your summer vacation to be ruined by a cavity or toothache! Here are five excellent reasons to visit a Rowley family dentist for all your loved ones' oral health care needs.
1.) Convenient and Specialized Care
Are you tired of driving all over town to take each family member to a different dentist? It can feel overwhelming trying to keep up and coordinate different appointments. Taking the entire family to one dentist ensures that no one's oral health slips through the cracks during the hustle and bustle. You can even schedule everyone's checkups at the same time to further simplify your life!
2.) Treatments for Every Stage of Life
A family dentist is able to perform treatments for smiles of all ages. Does your teenager need to straighten their smile? Do your parents need to replace their missing teeth? Does your spouse need help keeping their gums healthy? A family dentist will have all the training, experience, and technology needed to handle any oral health issue.
3.) Form a Lasting & Trusting Relationship
Seeing the same dentist throughout your life will help you build a strong, trusting relationship with them. If any oral health issues like a broken tooth or gum disease arise, you'll feel more comfortable and confident getting treatment from a professional you already know and trust.
4.) Keep Track of Your Family's Dental History
It can be difficult to keep track of your family's dental health, especially if they all visit different dentists. When you take your loved ones to a family dentist, all their dental records can be kept safe and sound in the same place. This can help ensure that everyone's chart is up-to-date and help your dentist provide the best care possible.
5.) Set a Good Example for Your Child
Leading by example is the best way to teach your son or daughter the importance of oral health. When your child gets the opportunity to see you getting your teeth cleaned, they may feel less anxious sitting in the examination chair themselves. Fostering their confidence and forming good memories can play a key role in how your little one takes care of their smile later in life.
Maintaining your family's oral health shouldn't have to be complicated! Make sure to visit your Rowley dentist this summer to keep those smiles happy and healthy all season long!
About the Author
Dr. J. Peter St. Clair has been providing excellent, long-lasting dentistry for the families of Rowley, MA since 1996. He is passionate about helping his patients understand their dental wellbeing and providing personalized treatments to help everyone achieve optimal oral health. Thanks to his dedication to continuing education, he is trained in advanced topics like sleep apnea, sedation dentistry, and dental implants. To find out if he is the right dentist for your family, feel free to reach out via his website or at (978) 948-2030.
Comments Off

on 5 Excellent Reasons to Choose a Family Dentist
No Comments
No comments yet.
RSS feed for comments on this post.
Sorry, the comment form is closed at this time.