June 2, 2020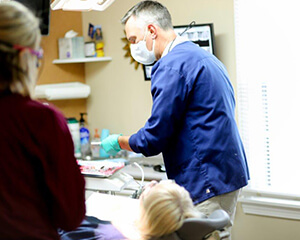 Dental offices are expected to return to more routine care starting this coming Monday, June 8th. The general vibe in the dental community is optimism, as we embark on a revised version of our normal procedures. We are all looking forward to seeing our patients.
Dentists play a key role in screening patients for many disorders relative to overall health, and in providing appropriate referrals into the health care system as needed.  Although the importance of integrating diet and nutrition guidance into dental care has been advocated for decades by educators, it continues to be a challenge for many dental providers to put into practice.
Many of the world's most significant health problems are linked to poor dietary practices, including over-nutrition and under-nutrition. Nutrition plays a fundamental role in health, and dental professionals have the opportunity to be a critical link between discovery and wellness.
There is a great deal of evidence linking oral infections, including periodontal disease, with nutrition and immunological response. We have clear evidence linking oral disease with adverse pregnancy outcomes, diabetes, cardiovascular disease and stroke. In addition, obesity, which is an epidemic facing our country, is significantly affecting the incidence of diabetes, cardiovascular disease and overall lifespan. We know there are direct connections between these problems and oral disease. What is the role of the dentist? Should the dentist just be a tooth fixer?
As the body of data linking systemic health conditions and oral infection grows, the expanding understanding of the gene-nutrient reaction may result in more profound discoveries. It is important for dental professionals, dentists and hygienists, to fully appreciate that the scientific bridge between oral disease and systemic health is often mediated by diet and nutrition.
The beneficiary of this profound evidence should be you, the dental patient. It should not only be the responsibility of the physician or specialized nutritionist to incorporate this information into practice. Dentists and dental hygienists should be playing a key role.
It is the responsibility of the dentist and dental hygienist to provide a thorough examination of the mouth. We screen for periodontal (gum) problems, as well as oral cancer. The trend is to address these problems earlier than ever before. In addition, the role of the dentist in sleep wellness is growing.
Many patients believe that the dentist is just a tooth fixer, and that dental treatment today is the same as it was 25 years ago. The fact of the matter is, things change. Dental professionals must use new information and technology to constantly improve the level of care provided. Hopefully, this will lead to improvement in the communication between all health care providers.
Dr. St. Clair maintains a private dental practice in Rowley and Newburyport dedicated to health-centered family dentistry. If there are certain topics you would like to see written about or questions you have please email them to him at jpstclair@stclairdmd.com. You can view all previously written columns at www.jpeterstclairdentistry.com/blog.
Comments Off

on WE ARE HEALERS
No Comments
No comments yet.
RSS feed for comments on this post.
Sorry, the comment form is closed at this time.