May 12, 2020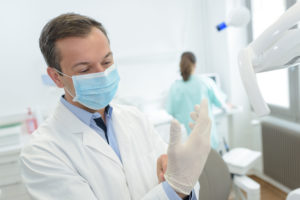 Unless things have changed, we will start to see signs of routine life this coming Monday, May 18th. Among other retail stores and services, dental offices will be allowed to see patients for routine care under guidelines from the Centers for Disease Control (CDC) Occupational Safety and Health Administration (OSHA)l and Prevention, the American Dental Association (ADA), and the Massachusetts Dental Society.
Many dentists, like myself, will be having a "soft opening" for at least the first couple of weeks, as this virus becomes less prevalent, patients get more relaxed with entering the dental setting, dental offices wait for supplies for personal protection equipment (PPE) to ease, and we get used to the short and long-term changes we are faced with in running a dental business.
The dental environment may never be the safest place on earth for dental providers, but it is going to be safer than it ever has been before for patients. Some of the basic things we will all be doing is to communicate with our patients before their appointments to ask some screening questions. You'll then be asked the same questions when you enter the office. These simple questions are the first key to creating a safe environment for everyone.
Until further notice, you will be asked to don a face covering before entering the office, and leave it on except during treatment….obviously. You will be asked to use provided hand sanitizer when you enter the office as well. Dental offices will have hand sanitizer available throughout the office. You may also have your temperature recorded with a non-touch infrared thermometer.
You won't see any magazines, children's toys or books in the reception area. If your dental office has a large reception area, the seats will be spaced out at least 6 feet. Offices with smaller reception areas may have you call when you have arrived at the office, and then either call or text you when they can bring you right into the treatment room. Many offices will also be spacing appointments out further to help with time needed to clean and disinfect.
I would imagine that these basic steps, along with the added PPE, will continue until at least the summer. We may see them come back as recommendations are issued prior to the new flu season. It may even become a seasonal thing.
Many dental offices will be taking steps beyond the recent recommendations to increase Universal Precautions for the long-haul. Although all dental offices have been treating the water lines in dental chairs for years to keep water safe for patients, this pandemic has made many of us more conscious about making the air quality in the office better.
I can tell you this; your dentist, dental hygienist, dental assistant, and other dental support staff are going to be so happy to see you. We have been spending a lot of time gathering information, training, and getting excited about bringing you dental care in a safer environment than ever before.
Moving Forward!
Dr. St. Clair maintains a private dental practice in Rowley and Newburyport dedicated to health-centered family dentistry. If there are certain topics you would like to see written about or questions you have please email them to him at jpstclair@stclairdmd.com. You can view all previously written columns at www.jpeterstclairdentistry.com/blog.
Comments Off

on THE SAFER DENTAL OFFICE
No Comments
No comments yet.
RSS feed for comments on this post.
Sorry, the comment form is closed at this time.