April 27, 2020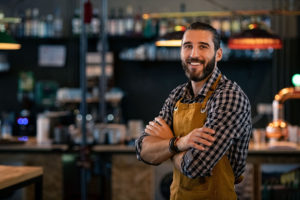 There's a lot more to consider with regards to the steps needed to provide a safe environment when we return to our routine medical and dental appointments following this global pandemic. Unfortunately, it seems there is plenty of time left to discuss these. We are all waiting for more guidelines from the CDC and other professional organizations on any necessary changes that need to occur before and upon opening to patient care.
Many of us have not been affected directly by the virus, other than watching the numbers, following reports, and grieving for those who have been plagued by its wrath. Most of us however, have been affected indirectly in some way or other.
The effects this tiny virus has had is mindboggling. Small businesses have been hit hard. Many businesses are not sure whether they will ever be able to re-open. Others are struggling to get by with government payroll protection loans. Will this money last long enough to keep the businesses afloat? There are many unanswered questions.
While we are all ready to get back to 'normal', we are also aware that this will be some new kind of normal. Is it a temporary new normal or a permanent new normal? We just want to know now!…. so we can get on with our lives. Many of us are going stir-crazy…..if you can't tell!
Will our restaurants be a half or a third full to comply with new guidelines? How long will that last? Would any small business be able to operate on a half to a third of the income?
Will the barber shop have a virtual waiting room in the parking lot where people are called on their cell phone to come in after the chair has been disinfected? And is your barber now gowned in PPE , looking like he's on the next rocket to the moon? You can barely understand him trying to have his 'usual' conversation through his N95 mask. He can't understand you either through your mask. He gives you a buzz cut. I hope it doesn't come to that, or at least to that degree.
We must continue to follow the guidelines we are given. At the time of this writing, our state is peaking in cases, which hopefully means the downslope is right around the corner. We are all sick and tired of this, but we must continue to be patient and be vigilant about protecting ourselves and others.
In this spare time that many of us have, may I suggest doing some Google research on the many services that each of us use and find indispensable? Have you ever Googled your car mechanic, restaurant or barber shop to see what kind of content they have on their website?
Does your local pharmacist, hair stylist or local brewery have a Facebook page that you could connect with and follow? Have you looked around your dentist's website and read the biography of your favorite hygienist or dental assistant?
While you're exploring and learning more about the people and places that you miss, I am sure they would LOVE for you to leave a nice review for them. Reviews are important to these small businesses from a marketing perspective ,and I am sure they all would appreciate kind words during this difficult time.
There are many platforms to leave reviews. One of the more valuable at this time is Google Reviews. If you are a gmail user it is easy to leave a Google Review. Get typing and support your favorite local businesses.
Dr. St. Clair maintains a private dental practice in Rowley and Newburyport dedicated to health-centered family dentistry. If there are certain topics you would like to see written about or questions you have please email them to him at jpstclair@stclairdmd.com. You can view all previously written columns at www.jpeterstclairdentistry.com/blog.
Comments Off

on SUPPORT YOUR LOCAL BUSINESSES
No Comments
No comments yet.
RSS feed for comments on this post.
Sorry, the comment form is closed at this time.