April 14, 2019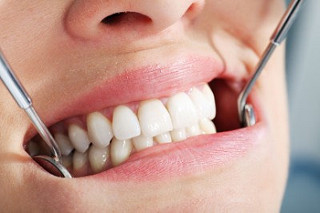 Everyone knows that they should see their dentist from time to time for cleanings and checkups. But these visits can do more than prevent cavities. In fact, they just may save your life. That's because dentists are trained to catch serious health conditions in their earliest stages, including oral cancer. Let's see what your dentist can do to help protect you from this potentially life-threatening disease.
Here's Why There's Cause for Concern
Oral cancer may not get the same attention in the media as other health problems. But that doesn't make it any less deadly. Statistics show that more than 50,000 Americans are diagnosed with this condition every year. Left untreated, it can spread throughout the body, making treatment very difficult.
We mention these facts, not to alarm you but to give you some good news. Oral cancer screenings are now part of most dental checkups performed in the US. The process is quick, easy, and comfortable. Yet it can make all the difference in the world for you.
Why Dentists Are in the Oral Cancer Detection Business
Dentists are trained to be careful observers. Their keen eyes and sharp minds enable them to spot problems that others can miss. Here's what to expect during an oral cancer screening:
Your dentist will check your mouth, throat, tongue, lips, palate, face, and neck for anything unusual. This only takes a few seconds. You can relax in the dental chair while it's going on.
Your dentist will also check for more common problems, such as plaque buildup, cavities, or gaps between your teeth and gums.
If your dentist notices warning signs for oral cancer, then he or she may remove a small sample of tissue for testing. This is a quick, gentle process that involves only a tiny number of skin cells.
The test will be performed by a dental lab. You'll know right away after the results are in. Modern cancer therapy is more comfortable, and more effective, than ever before. Modern forms of treatment include targeted drug therapy, immunotherapy, and advanced forms of surgery.
Most cases of oral cancer can be treated if caught in the early stages. This is why it's so important for you to see a dentist or other qualified healthcare professional for regular screenings. There's no point in gambling with your health when help is available. Make an appointment right away.
Some Added Anticancer Tips
Here are some steps you can take right now to lower your risk of oral cancer:
Avoid tobacco, excessive alcohol consumption, and illicit drugs.
Use sunscreen and wear a hat when you're outdoors.
Eat a healthy diet that includes fresh fruits and vegetables.
Stay physically active.
Seeing your dentist for regular checkups is part of any cancer prevention strategy. In the years to come, you can look back knowing that you've done a great job taking care of yourself. In the meantime, keep on smiling.
About the Author
Dr. J. Peter St. Clair has been practicing dentistry here in Massachusetts for more than 20 years. He's a graduate of the Tufts University School of Dental Medicine and a member of the American Dental Association. You can reach his office online or by calling (978) 948-2030.
Comments Off

on Here's Why Seeing Your Dentist May Save Your Life
No Comments
No comments yet.
RSS feed for comments on this post.
Sorry, the comment form is closed at this time.